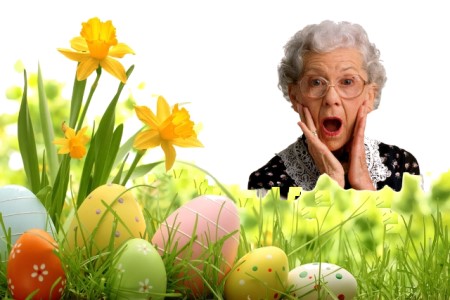 Stella was in a foul mood. For several weeks she had planned her little Easter Sunday party for her daughter, son-in-law and their three young children.

They came to lunch quite often, but this Easter Sunday would be special because… because it was Easter Sunday. Stella prepared the menu meticulously. She spent hours painting and decorating eggs for the children. And now all was ready!

Early in the morning, Stella wandered her garden hiding chocolate eggs for the children to find. She had prepared the vegetables. The rack of lamb was on the bench ready for the oven. For dessert they were to have blackberry pie with her special homemade honey ice cream!

Late morning Stella's daughter phoned. Arnie the son-in-law was feeling off-colour. Could Stella come and pick her and the kids up? But Stella's car was broken down. I thought I told you. Not to worry, said the daughter, we weren't that keen to come today anyway as they had been invited to a friend's place and Arnie was keen to go there. Not to worry, said Stella.

Stella didn't quite know what to do. She went over to the neighbours on the left hand side who had two young children. Would they like to come and hunt for Easter eggs in her garden? We're not Christians and we don't believe in all that stuff.

Stella went over to the middle-aged neighbours on the right hand side. Would they care for some chocolate eggs? Chocolate is chocolate, they said. They came. They hunted for the eggs. They stayed for a delightful rack of lamb and a blackberry pie. A convivial time was had by all. They had recently won millions in the lottery. Their win was a secret. They bought Stella a brand new car.