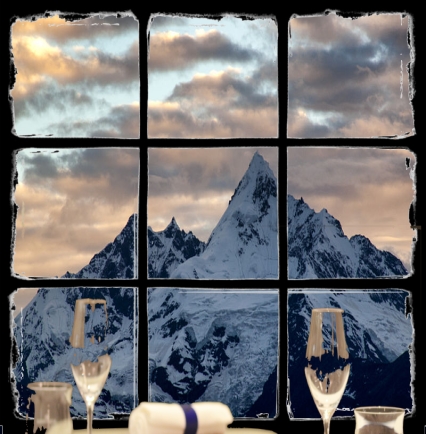 Alfie, professional bachelor, decided he would spend his forty-fifth birthday at a ski resort with some of his friends. There were five of them altogether. On the evening of his birthday, even though his friends said the Birthday Boy shouldn't have to pay for dinner, Alfie insisted that it was his birthday and he wanted his friends to have a good time.

"Order what you want, and as much as you want," said Alfie.

The meal was delightful. The food was glorious, and sitting there next to the huge window overlooking the ski field on the snow-covered mountains was unbelievably wondrous in evening light.

His friends didn't spare the ordering. Alfie personally ordered:

- A vanilla pear-drop drink with poached pear in a vanilla syrup with lemon and vodka, accompanied with nibbles of salmon with dill cream cheese, nori, and garlic grass.
- Bouillabaisse, a fish stock containing different kinds of cooked fish and shellfish complemented with garlic, orange peel, basil, bay leaf, fennel and saffron.
- A prawn and papaya salad, with moqueca baiana, a fragrant fish stew consisting of monkfish, peppers, onions, tomatoes, coriander, coconut cream and the like.
- Chocolate pumpkin brûlée pie (two helpings!)

Delightful! Alfie was the only one in the group that still smoked, so he went outside onto the veranda for some fresh air and a quick puff or two. That was when the avalanche struck.

Seven thousand years later, a mountaineer discovered Alfie's body buried in the ice. Scientists were thrilled with the quality of preservation. The body told them so much about the habits of people seven thousand years ago. The victim, of a possible avalanche, had just eaten:

- A vanilla, garlic, fennel and onion hors d'oeuvre roasted with a bay leaf and saffron.
- Peppers and prawns with orange peel, coconut cream, coriander, and chocolate.
- Monkfish (now extinct) with tomatoes, papaya, basil, pears, and pumpkin.
- Salmon and various fishes and shellfish with vodka, cream cheese, dill, nori, and lemons in a fish stock, served (again) with chocolate.