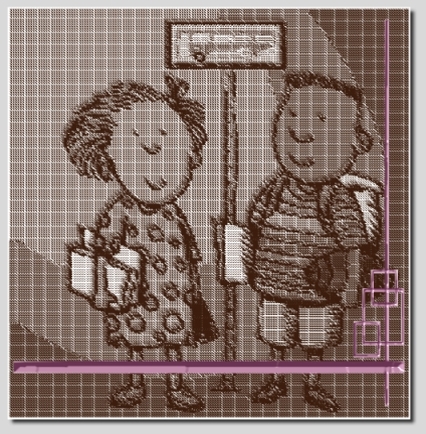 Veljka began to notice Ramon at school. She was becoming quite infatuated by him; his good looks, his intelligence, his laugh, his sportsmanship, his studiousness, his jovial conversations. He was beautiful. But he hardly noticed her. She noticed him, saw him, heard him, all the time. She would sit in the back corner of the classroom paying little attention to the lessons. Her eyes were on Ramon.

How natural and lovely he was when he chatted away – to everyone but Veljka it seemed. She wasn't part of his group. For the annual school dance, he asked Cassandra to be his date. Cassandra was a nice person. Veljka wasn't the jealous sort. But it made her sad.

One day, Veljka was on the bus and Ramon got on. The bus was full, except for one seat next to Veljka. Ramon sat next to her. Their knees accidentally touched. Veljka's heart raced. She thought she would burst. She thought she would die. She thought she would faint. She thought she would stop breathing. Ahhhh! He didn't take his knee away.

"How's it going?" said Ramon.

"Ah, ah, oh," said Veljka.

"Tell me," said Ramon, "is your hair naturally that shade? I notice it all the time at school."

All the time! All the time! "Yes," said Veljka. "It's natural. But I was thinking of dyeing it."

"Don't dye it," said Ramon. "It's beautiful. I notice you all the time."

Notice me! Notice me!

Ramon left the bus. "Catch you later," he said.

"See you," said Veljka. She got off the bus at the next stop. She had overrun her home stop by seventeen minutes. She danced the eight miles home.