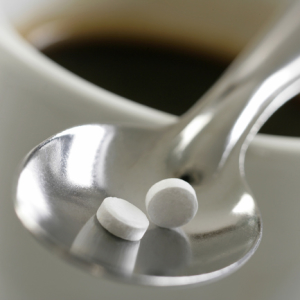 Nelson Crozier (known to his friends simply as Kevin) was furious. Every morning he'd have a cup of coffee, black. And every morning he'd drop into it one tiny tablet of low calorie artificial sweetener. The packaging of the sweetener asked "Why not enjoy life and cut down on sugar at the same time?" Kevin had enjoyed life without sugar in his coffee for well over a year.

The packaging also clearly stated (very clearly indeed) that the container held 500 tiny tablets.

Well!!! Kevin had used that container of low calorie artificial sweeteners for 498 mornings, and now it was out. OUT!!! No more tablets.

Kevin is not one to be toyed with. That's the last time he'll be buying that brand.