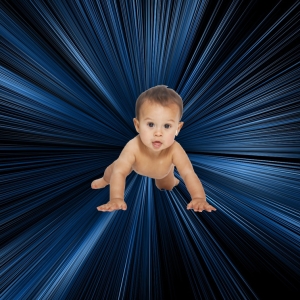 Harvey had, as is the lot of every human, passed on. To his astonishment there was some sort of continuing existence, and he discovered that if he travelled out into space far enough he could watch himself in the different stages of his life. It was all to do with the speed of light and watching that light present images of his past as it sped through space and so on…

There's Harvey now, watching himself as a toddler. He's crawling through a field of tall grass. Oh isn't he so cute? So adorable!

And there is Harvey now, at his wedding. What a magnificent wedding it was! He can move unseen among the guests and hear their comments:

"God Milly, I've never been to such a boring wedding. What an old fart that preacher man was."

Oh well… and here's Harvey simply walking down the street when he was about 52.

It's so fascinating viewing one's life as if in a movie. Harvey's been doing it now for 472 years. He's obsessed with himself. He hates it but he can't drag himself away.