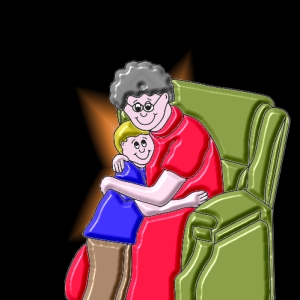 Don't get me wrong, Granny loved having her grandchildren come to stay. One at a time, you understand. At her age the last thing she wanted was to be worn to a frazzle looking after a large brood of pre-schoolers. She had fourteen grandchildren in all, but not all of them were little.

So little Dudley ("I'm going to be four in two months") came to stay. Just for a day and a night.

It was ten in the evening. Granny had just gone to bed and turned out the bedside light, when a little voice next to her head said, "Granny can I get into bed with you? I feel sick."

"Of course you can, dear," said Granny.

Dudley's breath was wheezy. He fell asleep cuddled up to Granny. Granny lay awake all night listening. In the morning Dudley was better.

"Thank you, Granny," said Dudley as he kissed her goodbye.

"I love having you stay with me," said Granny. But, oh, she was tired, so very tired.