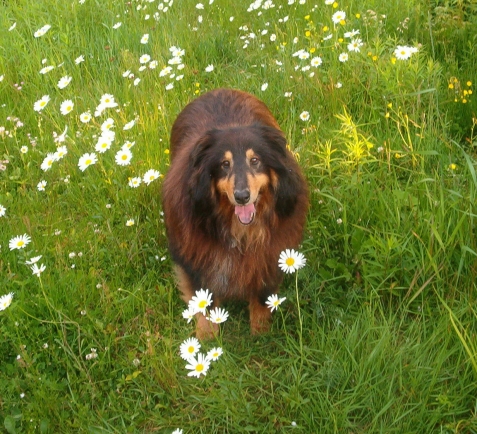 (This is written for the Cherished Blogfest. I depart for this "fest" from my daily fiction stance to the non-fiction.)

I had a dog. It was some sort of Collie cross. It was long-haired and dark brown, with light brown trimmings. I called him Doggie. That's him in the photo. This is his story:

I was sitting on my veranda in Asheville, North Carolina, when a large dog appeared, walking along the road. It came up to me. It was hungry. It settled on my veranda and wouldn't go away. I gave it some water. I gave it some food. I had never had a dog before. The postman told me where the dog lived. I left a note in their mail box with my name and number: "Your dog is at my place if your wish to pick it up."

They never replied to my note. Several days later the dog disappeared. The postman told me that the owners used to beat the dog up.

A number of weeks went by and I was again on the veranda. There was a thunder storm and it was pouring with rain. The dog appeared on the road. He saw me and ran, scampering up the steps to the veranda. The huge animal leaped soaking wet into my arms. He never left again.

He had nests of fleas and blood-sucking tics and great whip soars across his back.

Several years later I had to move to Saint-Georges, Quebec. Doggie hated travelling in the car. He lay on the back seat feeling sick for three days of travel. Not a whimper; just a patient acceptance. I was worried about crossing the border into Canada, as I was an illegal resident in the United States. I was saved by the dog! The border people were interested in the dog's papers. They took no notice of my passport.

Two years later I had to return to New Zealand as my health had deteriorated. I advertised in the local paper: FREE TO A GOOD HOME. A woman answered. She had a handicapped son. She had promised him a dog.

I drove to their home in Saint-Georges.

"Why! He's a big teddy bear!" said the boy in French. "I will take him to show grandpa."

I drove off. The last I saw was the boy and his dog in the distance, crossing the road, off to see grandpa.

I was bawling my eyes out. Doggie's tail was wagging.