Minnie Elizabeth Scrimshaw was born at Upper Hutt on the 8th of November 1885. Her parents were James and Martha Scrimshaw nee Jolly. She was the eighth of fourteen children. She was baptized at SS Peter and Paul's Church, Lower Hutt, by the French missionary priest Father Yardin.

Her older brothers and sisters were Thomas, Mary Ann, James Hector, Martha Margaret, Robert Arthur, George William (who died as an infant) and John Benjamin.

Her younger brothers and sisters were Patrick Henry (Paddy), William Hector (Kemp), Martha, Archibald, Beatrice Alice and Ethel May. Minnie was 13 years old when Ethel was born and was her godmother.

Minnie had beautiful long light golden hair, and was a wonderful cook.

Her maternal grandmother had died in 1873 before Minnie was born, and her maternal grandfather, Thomas Jolly, died when she was 3. Her paternal grandfather, George Scrimshaw, died when she was 12, and her paternal grandmother, Margaret, died when Minnie was 20.

Minnie worked at Trentham stables, and in 1909 she had a baby called Eva May but known as Dorrie. Shortly after, she met Albert Goodman, whose wife Martha had left him. Albert and Minnie Goodman were among the first residents on Moonshine Road. Frank was born on Friday 4 August 1911. Rene Mavis was born on 10 November 1912. Roy Albert was born on 11 August 1914, and Keith William in 1916. All of these were registered under the name of Scrimshaw (as the law then required), but were known as Goodmans.

Frank recalled how the Hutt River frequently flooded. Once it came up to the level of their section - for he was sent out to mark the edge of the river by putting a stake in the garden.

In 1913, Minnie's mother Martha died suddenly in Palmerston North of a tooth infection.

In January 1917 Albert received a letter from the State Hospital and Asylum for the Infirm at Newington, Parramatta River, Australia. In effect, the letter stated that one of their mental patients - a Mrs Maise Goodman - claimed that she was the wife of an Albert Goodman of Upper Hutt. They sought verification. Albert was able to show that Maise was Martha, and on 21 October 1918 the marriage was dissolved in the Wellington Supreme Court. Less than a week later, on the 27th of October, Minnie and Albert were married in the Registrar's Office in Wellington. In 1922 Albert formally adopted the children. Henceforth they were legally Goodmans.

Minnie's husband was involved in the horse racing business, and Minnie cooked for and looked after many apprentice jockeys over the years.

Albert and Minnie had two children stillborn: a boy in 1925 and a girl, named Margaret, in 1927.

Her father, James, had become mentally troubled and was admitted as a patient to Porirua Hospital. He died there in 1929.

There were undoubtedly times when Minnie found life "difficult". Frank Goodman recalled how as a boy he would hide some of his father's race horse winnings in his rolled sleeve to give to his mother.

As one family story has it, her husband Albert was in Nelson at the races. It was late and Albert wanted something to eat. A local hotel said that their dining room was closed, so Albert "bought the hotel". Minnie and the children moved to Nelson for a while. Apart from that stint however, they lived at Trentham.

She was called "Nanny" by her grandchildren.

For the last few years of her life she rarely went out. She had diabetes. Gangrene set in in her right foot and leg, and on Tuesday 20 April 1948 Minnie died at Hutt Hospital. She was 62 years old, and is buried in the Akatarawa Public Cemetery.

At St John's Church in Trentham there is a stained glass window dedicated to the memory of Albert and Minnie Goodman. The theme of the window is "Come Down, O Love Divine".


Minnie Scrimshaw
Minnie's husband Albert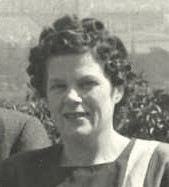 Minnie's daughter Rene