Frederick James Lightoller was born on the 6th of January 1842 in Chorley, Lancashire, England, his father being Richard Ashton Lightoller and his mother Ann nee Lovelady. He was the oldest of five children, his brothers and sisters being Thomas Henry, Mary Jane, Emily Marietta and John William.

The 1851 census has nine year old Frederick and his seven year old brother, Thomas, boarding at Walton Academy at Walton-on-the-Hill near Liverpool. The family was well off, and lived at Yarrow House in Chorley.

For a time Frederick was a soldier, being stationed at Kirkintilloch, Dunbartonshire, Scotland. This happened soon after his first marriage: to Sarah Jane Widdows in Blackpool in 1863. While in Kirkintilloch, in 1864, their first child was born, James Henry Lightoller, but he died as a baby. Their second son, Richard Ashton Lightoller, was also born in 1864 in Kirkintilloch. He may have been the twin of James.

Frederick's army rank was Captain.

Frederick and his wife returned to Chorley and he took over his father's business.

Ownership of cotton mills at Chorley could not have come at a worse time. The Civil War in America broke out, and as the American South fought, Lancashire starved. A cotton blockade was set up preventing American cotton reaching the Lancashire mills. From 1861 to 1862 the number of those working in the mills dropped from 583,950 to 121,129. There was poverty everywhere. The situation worsened. Six thousand had jobs in the mills and a quarter of a million were unemployed. The mills turned to India for cotton.

Frederick and Sarah's first daughter, Jane Marietta, was born at Charnock Richard, Lancashire, on the 19th of April 1865. Next was Caroline Mary in Chorley in 1867. Then came Gertrude Ann in 1869 and Ethel Elizabeth in 1872. Finally Charles Herbert was born on the 30th of March 1874.

A month after Charles Herbert was born, Frederick's wife died of scarlet fever. She was 30 years old. This was followed closely by the death of Frederick's 7 year old daughter Caroline, and 10 year old son Richard. Richard's death record states that he died of "morbus coxae" - which is a tubercular disease of the hip joint. Frederick's brother, Thomas, was killed in a train accident in Port Elizabeth, South Africa, on the 9th of September 1874.

Daughters Jane and Gertrude boarded at a private school in Reading St Giles, Berkshire. The school had 11 pupils, 3 servants, 2 governesses (one English and one German) and a French Principal (Madame Clarisse Ancellin). Frederick's children, Ethel and Herbert, remained home with a private governess, Miss M.B. Elstone. Moira Lyford, Jane's granddaughter, related how Janie had been to private schools in England and was vastly unsuited to the New Zealand conditions. Moira Lyford remembered Frederick Lightoller being described as "a bit of an old devil".

On Thursday 6 January 1876, Frederick married Margaret Barton at Chorley. It was reported in the papers as a "society wedding". Frederick was elected an Alderman of Chorley.

In the 1881 census, the Lightoller's had two servants in the house: Jane Jackson and Joice Gladwell (sic).

On the 19th of September 1881, his wife Margaret died. She was 28. They had no children.

After this time, there are rumours passed on through the descendants in both England and New Zealand: a scandal occurred! It seems that Frederick fell in love with the Lightoller's French Maid, Joyce Gladwin. (A "French Maid" is someone who looks after the household clothing). The English version of the story had Joyce Gladwin as the Nanny. Joyce had a baby, Janet, in 1883. Frederick was quietly banished by his family to New Zealand early in 1885. Relatives took care of the children. However, his 19 year old daughter, Jane, went with him to New Zealand. He left behind Gertrude, Ethel and Herbert. They were 15, 12 and 10 respectively.

Frederick and Jane travelled on the steamship the Doric. It arrived in Auckland on the 23 February 1885, having sailed from London with 114 passengers. On the passage out, they called into Santa Cruz de Tenerife in the Canary Island. The passenger list states that the Lightollers were to alight in Wellington. After Auckland, the Doric called into Wellington, Dunedin, Christchurch, Napier and Wellington (a second time), before leaving again for London. Frederick's first known address in New Zealand is Northern Wairoa (which is in the Dargaville area).

It is not known when Joyce Gladwin and her daughter Janet came to New Zealand. She and Frederick were married in Auckland on the 11th of September 1885. On the marriage certificate, Frederick is described as a clerk, aged 43, living in Northern Wairoa, and a widower. Joyce is aged 22. Her current address is given as Auckland but her usual address is given as Lancashire. It would seem reasonable to deduce that Frederick travelled to Auckland from Northern Wairoa to meet her ship.

Possibly Frederick and Joyce lived for a time in Dargaville, and then Opotiki, before moving to Waipawa. There is a report in the Hawkes Bay Herald of 28 February 1894, in which Mr Lightoller and his wife take a Mr McDonald to court for 28 pounds for damage to luggage while crossing the Tutaekuri River. They may have been on their way to live in Waipawa.

On 20th March 1889, at Opotiki, Jane Marietta Lightoller married Frederick Allen Clay. In 1891, Frederick's English daughter, Ethel, married Arthur Leigh.

In Waipawa, Ann Lightoller was born in 1894 and died the same year, aged six months. Alice Lightoller was born on Thursday 13th June 1895, and Frederick Lightoller on 13 September 1899. Joyce Lightoller was born in 1901, and Helen Lightoller in 1904.

On the 18th of February 1901, daughter Janet married Charles Henry Nash. In 1903, Frederick's English son, Herbert, married Australian Iowa Sylvania Zillah Hawley-Wilson (known as Sylvia).

In 1904 Frederick and Joyce moved from Waipawa to Beach Street, Petone, where Frederick worked as an accountant and Joyce as a laundress. Helen died in 1905, aged ten months, and was buried in the Taita Cemetery.

By 1906, the family were living at 5 Aurora Street, Petone. In August 1907 Joyce became ill with tuberculosis. She died at home on Saturday 23 November, and was buried at the Taita Cemetery. She was 44 years old. The Minister was J.W. Russell of the Church of England. Janet was 22, Alice 12, Frederick 8 and Joyce 7.

From 1911 Frederick James Lightoller had a bad heart and associated depression. He had moved to 12 Manchester Street in Petone and was working as a labourer. The Titanic, of which his son Herbert was the highest in command saved, sank in 1912.

Towards the end of 1913 Frederick moved from Petone back to Waipawa. In early December he cut his throat and died of the resulting shock on Friday 12th December 1913. He was 72 years old. The Rev. T.W. Whibley of the Church of England buried him in an unmarked grave in the Waipawa Cemetery. In those days, suicide victims were given neither a church service nor a grave stone.

Janet was 30, Alice was 18, Frederick was 14 and Joyce was 12. The family continued to live at Waipawa cared for by Janet.
Frederick with his daughter and wife: Janet and Joyce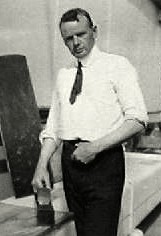 Frederick's son Charles Herbert

Frederick's daughter Janet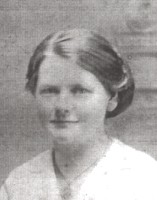 Frederick's daughter Alice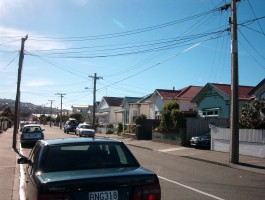 Beach Street Petone today
12 Manchester Street Petone today
Frederick's grave plot