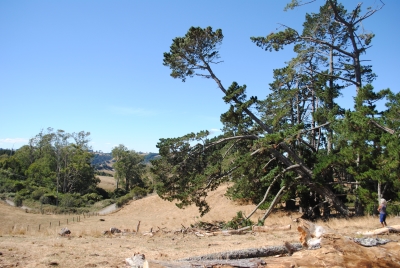 "It's a beautiful summer's day," said Anton to his wife, Megan. "It's the perfect day to cut down that pine tree that's been blocking our view of the mountains."

"It's too dangerous," said Megan. "You always said you'd get it done professionally. You don't know much about cutting down a tree. You've only ever used your chainsaw to cut up logs that have already fallen over."

"It's no bother," said Anton. "I've seen people do it, and I watched a video on how to do it as well. Today's the perfect day for it."

"Just think of your three kids," said Megan. "They don't want a tree falling and killing their father."

"Balderdash!" said Anton. "I'm doing it. And we can cut up the tree and dry it for firewood."

Time and time again in life the inevitable happens. Anton stubbornly took his chain saw out to the huge pine tree that was blocking the view of the mountains. He began to cut the tree down.

"TIMBER!" shouted Anton as the tree fell. "How exciting is that! See! It's down and I'm still here. It simply takes a bit of know-how. Now to cut up firewood."

By one in the afternoon Anton was dead. Heat stroke.