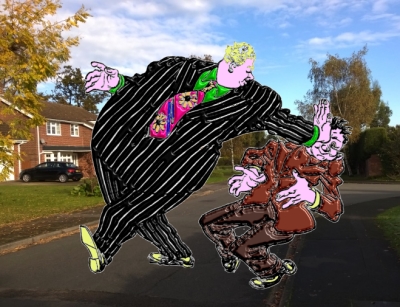 Fatty Brown, who happens to live next door to me, is a know-all. I showed him one of my stories and he said I was wasting my time. As if he knows. He thinks he knows everything. You'd think he'd try to be more positive.

Anyway he's so fat that when he gets into his swimming pool there's no water left. I don't know what he eats but he's not only fat, he's gross. He obviously doesn't clean his teeth properly. And his dress sense is disgusting. If he'd dress like they did in the nineteen seventies he'd be more fashionable. Mind you, flares on a fat man is asking for trouble.

Fatty said my story needed more punch, but I didn't want it to have punch. As I said when he criticized it, if you don't like my story why don't you write one yourself. I only showed it to him because he once had a poem published in some magazine so I thought he might know what I could do with my story. That's the last time I'm going to show Fatty anything.

God, I hate some of my teachers.