Today's "story" concerns a topic you've probably been wondering about for many years. Having the answer to the question will undoubtedly leave your mind free to begin to ponder other thoughts of importance. I know there are some people on the planet who might regard this topic with incredulity; not so I, and hopefully not so you. The cynic might say it's about an area of farming in an era that no longer exists, so it's not necessary to "talk dirty". But all history buffs should care enough to be spellbound. Here is the question. In the old days, when farmers ploughed their fields with the aid of a draught horse, without the availability of modern trucks and horse floats, how did a Clydesdale mare get into foal? Obviously the farmer, whose livelihood depended on the Clydesdale, didn't want puny offspring unable to pull a plough – or unable to wear a harness. And clearly temperament was a factor. Who wants a draught horse as stubborn as a donkey or as nasty as a racehorse? Only the best Clydesdale stallions would do. Well, here lies the answer. The owner of a Clydesdale stallion would move from village to village and advertise his wares in newspapers. The stallion would reside in a field near a village for perhaps several weeks, and then move on. Some stallions stayed only for a day. Others popped in to see friends while travelling through.


Some were more expensive than others. Some charged a grazing fee; grass doesn't grow on trees. Some boasted a proud pedigree. Some simply cavorted around the meadow showing off their sleek muscles and fluffy ankles.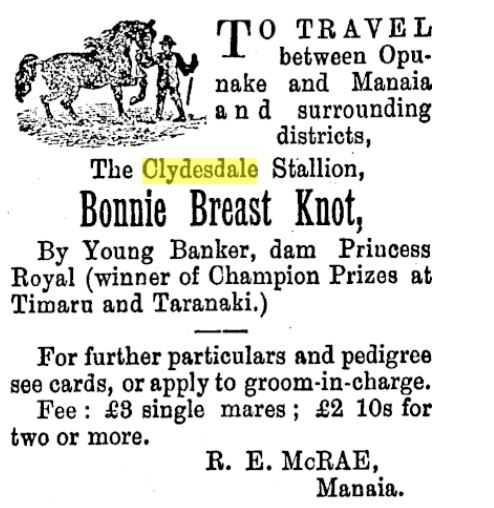 It was like a Journeyman Plumber or Journeyman Blacksmith who laboured not in a workshop but moved around freely from client to client. Except in this case it was a Journeyman Horse. Only very occasionally would a mare do the travelling.


I knew you'd be interested. I was. Perhaps, if you believe in reincarnation, you might consider the possibility of coming back as the lucky owner of a proud Clydesdale stallion. It's a wonderful calling and an excellent way to see the country.