What is the Musical About?
This nativity play is about 30 minutes long. In North America it is known as "A Snowman Down Under".

A Northern Hemisphere Snowman is cold. He travels on an aeroplane with a chorus of Christmas parcels to the Southern Hemisphere. It melts! A chorus of snowflakes rescues him.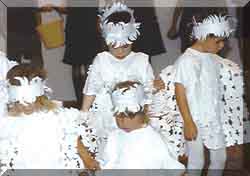 Contact